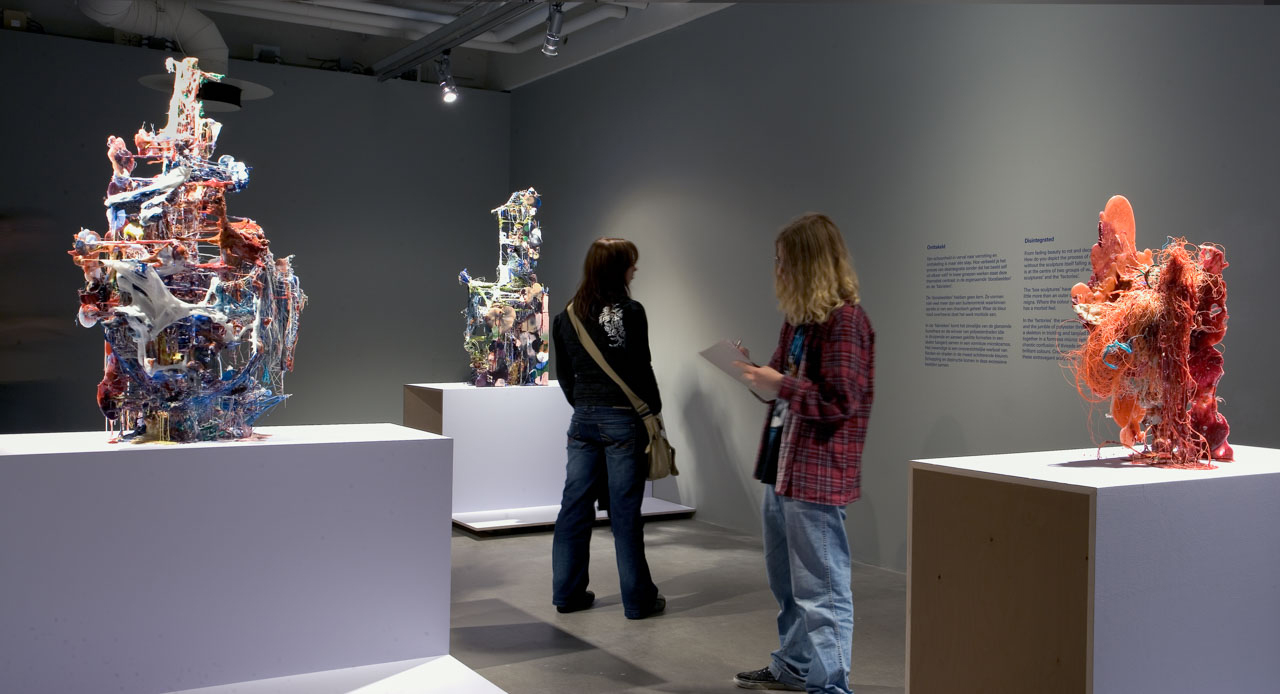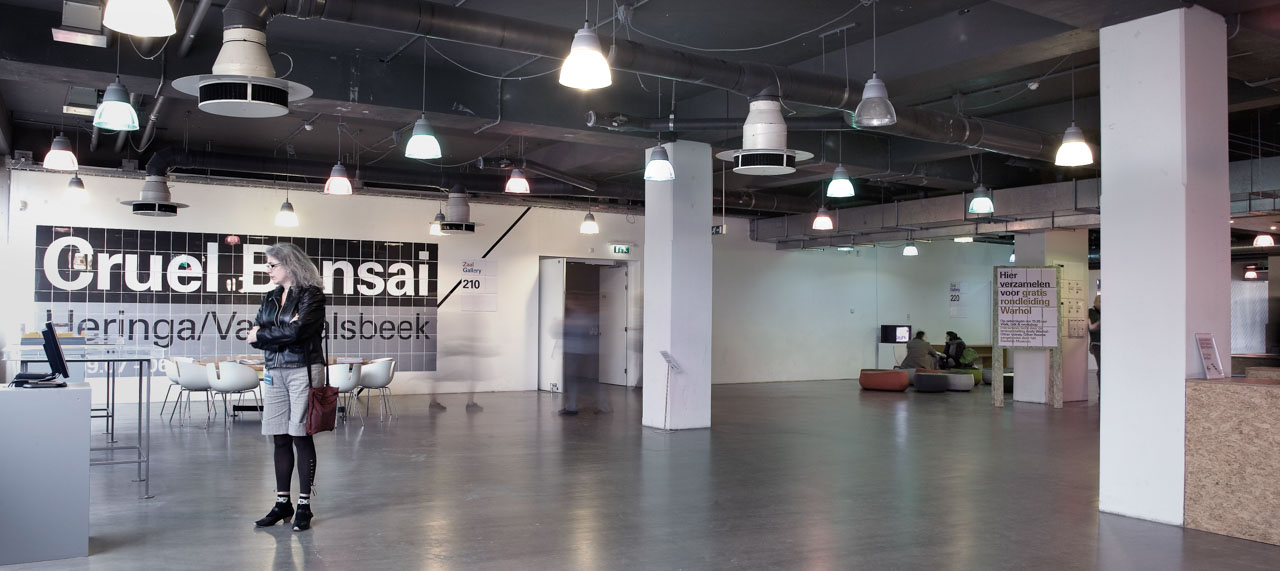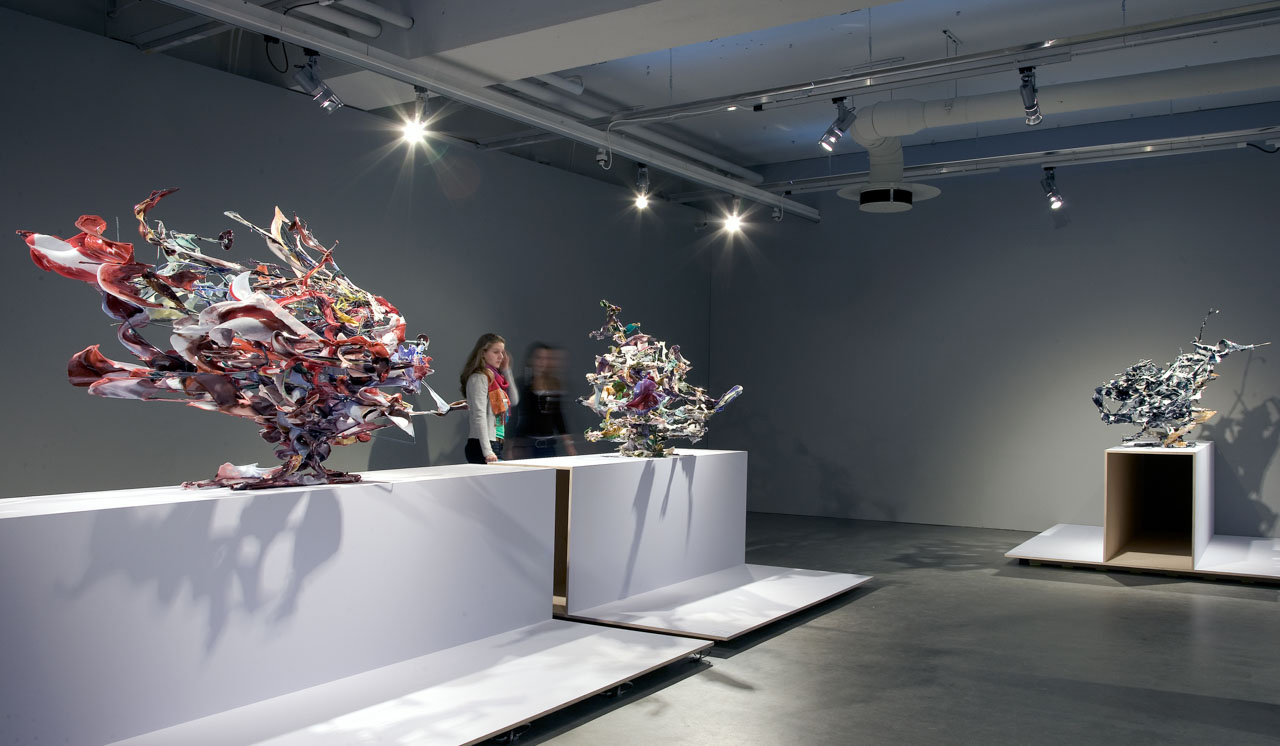 Cruel Bonsai – Stedelijk Museum Amsterdam
Solo exhibition
Heringa/Van Kalsbeek – Cruel Bonsai
14 September 2007 – 6 January 2008
Stedelijk Museum CS
The Stedelijk Museum is pleased to present the first ever major museum solo exhibition by artist duo Heringa/Van Kalsbeek. Their extravagant sculptures appear
at once poetic and slightly morbid and are inspired principally by nature in all its capricious irregularity. The artists make their sculptures out of a mixture of materials such as porcelain, artificial resin and feathers, and the physical process of creation plays a decisive role in their final appearance. The title work of the exhibition, Cruel Bonsai, was created in 2005 during a period in Korea. It is the Stedelijk Museum's latest acquisition and the immediate occasion for this exhibition.
Liet Heringa (b. 1966, 's-Hertogenbosch) and Maarten van Kalsbeek (b. 1962, Oegstgeest) have been working together under the name of Heringa/Van Kalsbeek ever since they graduated from the Rietveld Academy in 1998. Their sculptures are a hybrid of fine and applied art. The unpredictability
of nature is an inexhaustible source of inspiration for these artists. They are particularly fascinated by things that are running wild or just past their best, like a float just after a floral pageant or an exotic bloom that is going over. In the course of their travels they stumble on countless examples, whether
in the jungles of Asia, the countryside of Italy, or simply beachcombing on the Dutch coast.
Uncontrollable natural processes like growth, flowering, decay, coagulation and heating are translated during Heringa/Van Kalsbeek's working process into accumulation, assemblage and montage. But this does not mean that their sculptures are carefully planned in advance: the artists allow chance to play a major role and at most intervene to steer the process. Indeed, neither of them ever knows what the other will do – the sculptures are the result of a dynamic, unpredictable, spontaneous process.
The resulting sculptures are baroque in their visual overkill and superabundance of materials, dynamics, colours and movement. They seem to shimmer, allow the viewer no respite from their visual onslaught and offer a fascinating and vertiginous prospect from every angle. Although the sculptures frequently start from a core, such as a small Chinese porcelain figurine, this is soon overgrown by an explosion of forms and colours and no longer recognisable as such. Paradoxically enough, in the midst of the storm, harmony, poetic quietude and marvellous colour effects survive, although beauty becomes irrelevant as a criterion.
The Stedelijk Museum purchased its first piece by Heringa/Van Kalsbeek in 2000 and now has five in its collection, including the title work of this show, Cruel Bonsai. The exhibition will include so colled 'laboratory pieces': small and medium-sized sculptures in which the artists experiment with the forces they use in their work.
The exhibition will be accompanied by a publication entitled Controlled Accidents (€ 39.50, publ. Heringa/Van Kalsbeek). See also www.heringavankalsbeek.nl.
Date

1 May 2015

Tags

Exhibitions - Past